Save Money
The average consumer spends hundreds of dollars a year on disposable razor blades. Blade Buddy extends the life of a blade from days to months, saves your money.
Reduce Waste
Two billion blades and their packaging are thrown out each year, resulting in two million pounds of plastic waste. Blade Buddy significantly minimizes the amount you throw away.
Shave Smarter
With Blade Buddy you will be shaving smarter than ever before. You will save money, reduce waste and eliminate nicks, cuts, razor burn and ingrown hair caused by dull razor blades.
What Our Customers Are Saying
I love my Blade Buddy. My Gillette twin blade used to last me one week. Now, my current razor will have been used for TWO months and is still going strong.
Len - Thornhill, Ontario
I bought a Blade Buddy the same time I got my Gillette Pro Glide razor. Now it's mid September and the Gillette Pro Glide is still shaving great after 4 months.
Taylor - San Francisco, California
It works really well. I've been using the Blade Buddy for 5 months and I'm still able to use my same razor. I haven't had to buy another razor since.
Mo - Happy Blade Buddy Customer
FAQ
Will the Blade Buddy work with any razor?
Yes. Blade Buddy will extend the life of all razor blades.
How does the Blade Buddy work?
Every time you shave, the edge of your razor blade bends. Blade Buddy's micro-honing grooved surface straightens the edge back into alignment.
How do I use Blade Buddy?
All it takes is 3 easy steps. Watch the video below and discover how to keep your razor blades going strong.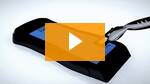 Join Us For Shaving Tips and More
Keep up to date with the latest and greatest in shaving tip, tricks and trends. Join us on Facebook and Twitter.